Match the photos and the tree names to the descriptions. *
A link to the answers is located at the bottom on the page.
Trees:
American Elm
Black Willow
Bur Oak
Gum Bumelia
Mexican Plum
Osage Orange
Sugar Hackberry
Photos:
Click on each photo below for a larger view.
7.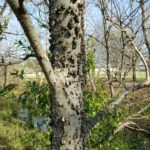 8.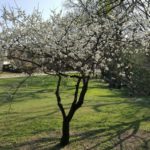 (Hint: one of the trees is shown in two separate photos)
Descriptions:
a. Other name is "…from the French words meaning wood of the bow, because the arching branches were a favorite of Osage Indians and others for bow wood."
b. Also known as Chittamwood. "Small tree occasionally more than 40 feet high, with stiff, spiny branches. Children used to chew the gum that exuded from the bark and called it 'chicady' ".
c. "The overall form of (this tree) open grown is often likened to a column or fountain of water." "The state tree of Nebraska and North Dakota."
d. "…branches were used as divining rods to locate water. Indians made an infusion of the bark to alleviate fever and aches. (the bark does, in fact, contain salicylic acid, which is present in aspirin.)" "The fast growth and shallow roots are known to break pavement – these same properties make the tree useful for erosion control." Woodpeckers favor these.
e. "…grows fast, gives good shade, resistant to pollution and cotton root rot, shallow root system holds the soil. …sweet fruits produced in abundance are a favorite food of many species of bird. Good selection to plant in areas where nothing else will grow."
f. "Flowers very early in Spring. …juicy fruits are eaten by only a few species of wildlife – foxes, ring-tailed cats, and songbirds."
g. "Seedlings have been found to have a 4 ½ foot taproot at the end of the first growing season. A stately tree, 80 feet or more tall, … in the landscape this tree can become large and dominating." "…few insect or disease problems." "In winter the corky twigs and stout branches give it a picturesque appearance."
* Text and descriptions from Texas Trees, A Friendly Guide, by Paul W. Cox and Patty Leslie, Corona Press, San Antonio, 1999.